I admit I'm not exactly good at keeping my blog up to date, although I like to think I've had a good excuse lately.  I've been making something a bit special:
This little monkey is currently known as 'little blob' & is due to make an appearance around the 2nd April 2011.  This is one thing I've made that wont be going in my shop ;)   So I spent all Summer being sick 24/7, which meant I just couldn't get on and make pretty things (I don't think they would be as pretty, or sell very well, covered in vomit…)  Now I'm feeling so much better, except the tiredness.  Why did no one remind me of the tiredness?!  Dylan started school in September, and I now seem to spend my life walking back and forth dropping him off & picking him up.  To go from practically no exercise to walking at least 4 miles a day has been a bit of a shock to the system!
I have been cooking like mad since I got over the morning sickness though and intend to share some recipes on here from now on.  My breadmaker & I are best friends once again, and it's been churning out all sorts of amazing things.  Even better since I bought one of these from Lakeland, to bake proper baguettes: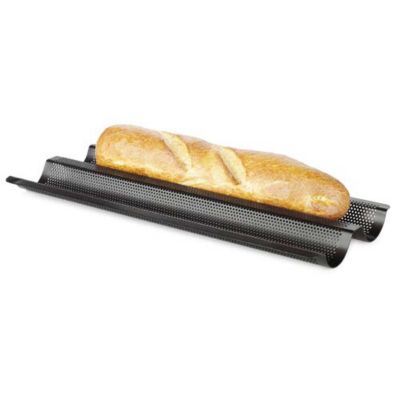 I also treated myself to a new loaf tin, and some of those loaf tin liners – so much easier, and much less hassle to wash the tin after!  So far I've used it to make a Weetabix cake, and an Apple, raisin & cinnamon cake mmmmm…
Sales are going well on my Folksy shop, mainly due to the huge success of the recently launched Craft Carousel.  If you are a fellow Folksy seller please go and check it out, it's a great way to get your Christmas shopping started & have some free advertising at the same time!  With almost 140 sales in under 2 weeks it is definitely proving to be a massive hit.  Thanks have to go to Maryann from One Stop Pamper Shop and Sarah from Silver Birch Crafts for all their hard work setting it up and ensuring everything is swapped over asap!
I need to get a move on and make more stock in the lead up to Christmas – I did promise myself I'd start much earlier in the year, but it always seemed so far away before!  My poor shop is looking a little bare and neglected at the moment :(
If there is something in there that you would prefer in a different size/colour/fabric etc then please just let me know as I will happily do what you want as a custom order.  You can email me at jentwinkle412 AT gmail DOT com, or send me a message via Folksy.
Jen xx